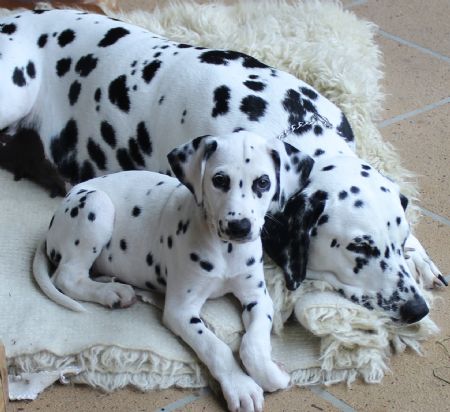 Welcome to my web page.
BELLBIRDHILL DALMATIANS
THE HOME OF LOYAL LOVING HEALTHY WELL ADJUSTED FAMILY COMPANIONS
D
Is for Dashing because Dalmatians
love to run.
They think miles with horses lot's of fun.
A
Is for Active and that's how they like to be.
Don't leave one alone with his creativity
L
Is for Loving their precious family.
At your heels and by your side is where
they want to be.
M
Is for Mature which Dalmatians
are slow to do.
They are only babies even when they're two.
A
Is for Alert because that is how Dalmatians
are bred.
T
Is for Trainable because Dalmatians are smart,
you see, motivate and treat, you must be
smarter than he.
I
Is for Imaginative, oh the games they can play.
A
Is for Attractive spotted from toe to head.
Dalmatians can shed.
N
Is for Noble and Nonpareil which Dalmatians can
surely be.
Brains and brawn you can ask no more of he.
Contact Details
Lesley Knight
Ourimbah, NSW, Australia
Phone : 0418434236
Email :
[email protected]
116032 Visitors