Why we do not remove dewclaws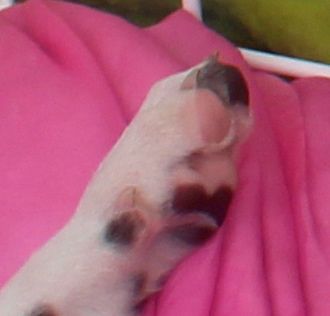 REMOVAL OF DEWCLAWS
Here at Bellbirdhill Dalmatians we do not remove dewclaws
The Dew Claw is the single toe above their other toes situated on the front legs
Where your thumb would be
Rearly are they on the back legs
My feelings are
If a puppy is born with it why remove it ?
Nature put it there for a reason
The removal of dewclaws is removing a toe, and is like removing your own thumb
I personally can't cause pain to an innocent little puppy for cosmetic reasons
My vet has the same opinion when I first became a registered breeder
I asked my vet about removing the Dewclaws
He was horrified and his quote was " What you want to cut their toe off !! "
I do not wish to take a new puppy to a veterinary surgery at such a young age
For this procedure if it is unnecessary
Due to the amount of sick animals that can carry all sorts of diseases
Of which a very young puppy of 2 days old has absolutly no immunity
THIS PROCEDURE IS DONE WITHOUT PAIN KILLERS
The survival of a puppy in its first week of life is my main priority, as it is the most delicate
Time of their young life, and so easy for them to get an infection and die unnecassarily
So to keep your new baby puppy healthy, I keep him or her away from
Unnessary diseases or infections
If you wish to have the dewclaws removed it is an easy process for the vet to do
Whilst being spayed or neutered under anesthetic.
If you are not concerned about the dewclaws keep them clipped the same as you
Would their other toe nails
Your puppy will be used to this as from 2 weeks old, and every 2 weeks when they are wormed out
He / She will have their nails clipped including their dew claws.
I have 7 Dalmatians with dewclaws and in the over 25 years of owning Dalmatians I have never
Had any problems with dewclaws, come to think about it with all the different breeds of dogs I have owned
Over the years before my Dalmatians
It has never been a problem they all run around all day on a
Large acreage playing digging and climbing
WHY DO DOGS HAVE DEWCLAWS ?
The use of dewclaws in dogs include as a grasping digit for most activities,
To maintain the grasp that it has established
Watching a dog with a bone the dewclaws are used for holding it in place.
Dewclaws may also be used by dogs for climbing
Dogs with dewclaws compete better at agility, and trials, as the dewclaw gives them better
Balance and gripping ability
THANKFULLY FOR OUR PETS THESE BARBARICK PRACTICES ARE
GRADUALLY BEING PHASED OUT SUCH AS DOCKING TAILS CROPPING EARS ETC
Contact Details
Lesley Knight
Ourimbah, NSW, Australia
Phone : 0418434236
Email :
[email protected]