Choosing a Dalmatian Family Member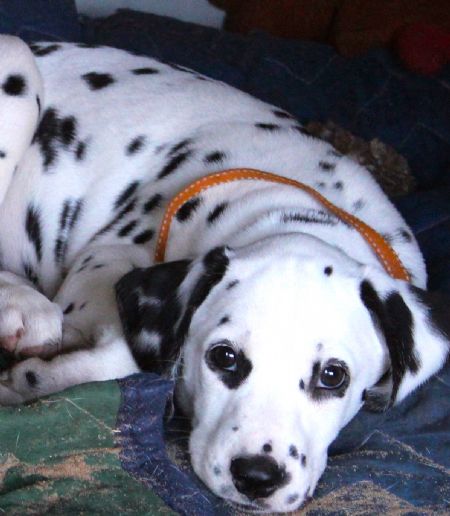 Having decided that a Dalmatian is what you would love to own.
Will it be a boy or girl
CHOOSING BETWEEN A GIRL OR BOY ACTUALLY THERE IS VERY LITTLE DIFFERNCE
The boy generaly stands 24" a girl 22"
A BOY IS OFTEN MORE AFFECTIONATE THAN A GIRL
MY BOYS NEVER LEAVE MY SIDE WHILST THE GIRLS ARE OF DOING THEIR OWN THING
Girls can be aloof and a little standoffish especially with strangers
Most breeders when asked their preference if they could have only one sex
The answer is a boy once naugtered there is very little difference if any
Black spot is the most comman
The Liver spot is brown and can be attractive
What activities do you have in mind a pet, a walking or running companion, to run beside your push bike
to run with horses.
A farm or suburban home,
A mate for your other pets, to do Obedience, Show, Fly ball, agility, or trials, or just a couch potato.
This is the Dalmatian he will fit in anywhere, A very versatile breed.
I call them wash and wear dogs clip his/her nails a tub or a good brush and all is done
THEY ARE GOOD WITH CHILDREN WITH VERY SMALL CHILDREN MUST BE
SUPERVISED AS THEY HAVE A STRONG EVER WAGGING TAIL AND CAN KNOCK
A SMALL CHILD OVER WITH EXCITMENT
THEY GET ON WELL WITH OTHER PETS
The Dalmatian loves nothing more than a good cuddle
And will be always by your side
An easy care intellegent dog very fast learning, good or bad habits.
THAT IS WHY WE RECOMMEND PUPPY SCHOOL FOR ALL OUR YOUNG PUPPIES
ALSO
ALL YOUNG PUPPIES WILL NIP AT YOUR HEELS OR ANYTHING ELSE THAT IS EASY TO NIP
At puppy school they will show you tricks on how to curb this habit
Dalmatians do not do well left in a small yard, and left alone, they love company
They can dig very large holes when bored or tear things up
THEY NEED REGULAR EXERCISE
DALMATIANS NEED TO BE FED A SIMPLE LOW PURINE LOW FAT LOW PROTEIN DIET
A natual diet is recomended staying away from preservitives and offals
Low fat kibble with low protien content
As they can form stones in their urinary system.
They must always have access to water 24/7
DALMATIANS CAN BE BORN DEAF
THAT IS WHY ALL BELLBIRDHILL DALMATIANS WILL BE BAER HEARING TESTED AT 6 WEEKS OLD
DALMATIANS CAN GET EAR INFECTIONS
That is why you should check their ears regularly and keep them dry after swimming or bathing
As with any breed of dog with long ears
DALMATIANS CAN HAVE SOME SKIN ALLERGIES
That is because they have the white gene
So there is no need to over bath him as it removes the natual oils from his skin
A good regular brush is usually all that is needed
Dalmatians do not smell like most dogs they are a very clean dog
They are more cat like
DALMATIANS SHED
Their little white hairs just love your lovely black clothing or furniture
A good brushing will help keep the hairs a little more at bay
HERE AT BELLBIRDHILL DALMATIANS
Once our girls are getting close to having their babies they are watch closely
and spend their days close by my side 24/7
We have a large whelping box within hearing distance set up for mum and babies
in a nice quiet special place where they can't be disturbed by the other dogs
Mum feels comfortable knowing all is good the puppies are watched 24/7
When puppies have reached the age of aproximatly 3 to 4 weeks
They become bored and active in the whelping box
They are then ready to explore the world around them
We give them the oppertunity to develop into strong healthy puppies, dogs
And well adjusted family companions
By bringing them up naturally
All our puppies are brought up in a more natural environment getting used to
Different people, other dogs wild life, horses,
Tractors, mowers, rain, storms, thunder, and lightening,
This also helps them gain and develop a natual immunity to diseases and infections
They may encounter through their young years
As our main prority is healthy strong puppies
Because of this most of our puppies leave here basically toilet trained
A PUPPY SPEEKS
I tripped you on the slippery floor.
And then you locked me out the door.
You said cross words, I wonder why.
You know I will love you till I die.
I know I'm just a crazy pup.
Who chewed your newest slippers up.
Though you don't like my kind of fun.
I love you more than anyone.
I jumped onto your favourite chair.
And left my paw prints everywhere.
You stomped your foot you made me cry
And I still love you till I die.
I lie beside your bed in fright.
And growl and wake you up at night.
Yet this small pup would gladly give
His worthless life that you might live.
You might be right you might be wrong.
But I'll be with you my whole life long.
Cause I'm your pup and your my friend.
And we are buddies till the end.
Contact Details
Lesley Knight
Ourimbah, NSW, Australia
Phone : 0418434236
Email :
[email protected]