ABOUT BELLBIRDHILL DALMATIANS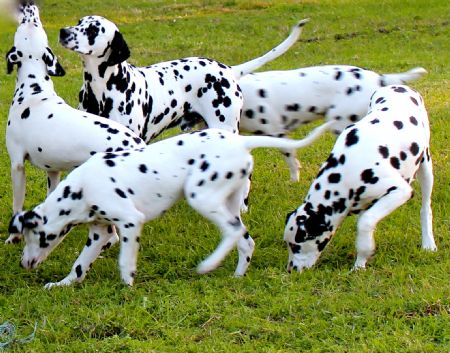 BELLBIRDHILL DALMATIANS
Is situated on the lovely Central Coast at OURIMBAH
I have owned and loved Dalmatians for almost 30 yrs.
I had a paddock full of Appaloosa horses.
All my life I have owned dogs of many breeds.
There was always an argument with whatever the dog was to stop chasing the horses.
It was a real pain.
THE BEGINNING OF MY LOVE FOR THE DALMATIAN
I had always wanted a dalmatian, and with the spotty horses.
I thought wouldn't it be great to own a spotty dog to match.
One day looking in the local newspaper I saw an add with the local RSPCA.
A female dalmatian, I contacted them.
And went to meet the sweetest natured black spot female Dalmatian.
She had been surrended to the RSPCA.
I was instantly in love with Lady, and what a lady she was.
Lady had lived in a home unit never being on the land or seeing horses.
She took to this life as if she had been here always.
Lady loved the horses, and not once did she chase or heras them.
It was wonderfull and I was then hoocked on this wonderful breed of dog.
After several years with this lovely Lady
I then decided I would love another dalmatian, I ended up with another two.
I purchased my first registered Dalmatians
Dallydom Aberdene (Argile)
And Then
Dumbledeer Fancy That (Razz)
Thay fitted in just the same with the horses, never any problems.
No chasing No Harasing.
HERE AT BELLBIRDHILL DALMATIANS
My dally's are part of my family, they have a lovely life.
Running free on a large green acreage not in wire cages or concrete kennels.
Lots of shade trees and cosy places to curl up and sleep, when their not playing or running,
They are such fit healthy dogs with big cheezy grins for everyone
A dam to swim in.
Which amazes me how they will go for a swim on a very, very cold day.
With horses, wildlife, and bellbirds singing in the backgroung
They play and run and get on amazing with each other being 3 males and 3 females.
They are a loving, healthy, happy, well adjusted, bunch of puppies.
That are always willing to give a cheesey grin and a cuddle anytime.
They love to follow us around checking out what we are up to.
And of course trying to help, with a paw or a head in the way, or maybe just sit on you.
That usually works well. They are such characters
I love this breed of dog.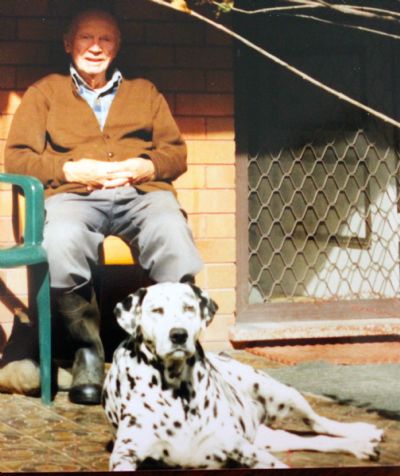 Lady enjoying the sun with my father in the beginning
Contact Details
Lesley Knight
Ourimbah, NSW, Australia
Phone : 0418434236
Email :
[email protected]